We'd like to take a moment to congratulate Northern Irish author Anna Burns, who was awarded the 50th Annual Man Booker Prize on October 16 for her novel Milkman!  Burns becomes the first Northern Irish author to win the award, and the first female winner since 2013, when Eleanor Catton took the award with The Luminaries.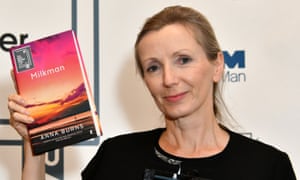 Burns drew on her memories of living through The Troubles in Northern Ireland to craft a story about middle sister in an unnamed city as she navigates her way through rumor, social pressures and politics in a tight-knit community. Burns shows the dangerous and complex outcome that can happen to a woman coming of age in a city at war.
Kwame Anthony Appiah, 2018 Chair of judges, commented on the book:
None of us has ever read anything like this before. Anna Burns' utterly distinctive voice challenges conventional thinking and form in surprising and immersive prose. It is a story of brutality, sexual encroachment and resistance threaded with mordant humour. Set in a society divided against itself, Milkman explores the insidious forms oppression can take in everyday life.
Milkman also spoke to the concerns of today, Appiah reflected.  as quoted by The Guardian, he noted, "I think this novel will help people think about #MeToo … It is to be commended for giving us a deep and subtle and morally and intellectually challenging picture of what #MeToo is about."
In addition to her prize money and public recognition, the Royal Mail is issuing a congratulatory postmark featuring the winner's name, which will be applied to millions of items of stamped mail nationwide for six days from 17 October. It will read 'Congratulations to Anna Burns, winner of the 2018 Man Booker Prize'.
We here at the Free For All would like to add our congratulations to Anna Burns.  Milkman will shortly be available in the US, and we cannot wait to get our hands on it!