And a very happy National Doughnut Day, beloved patrons!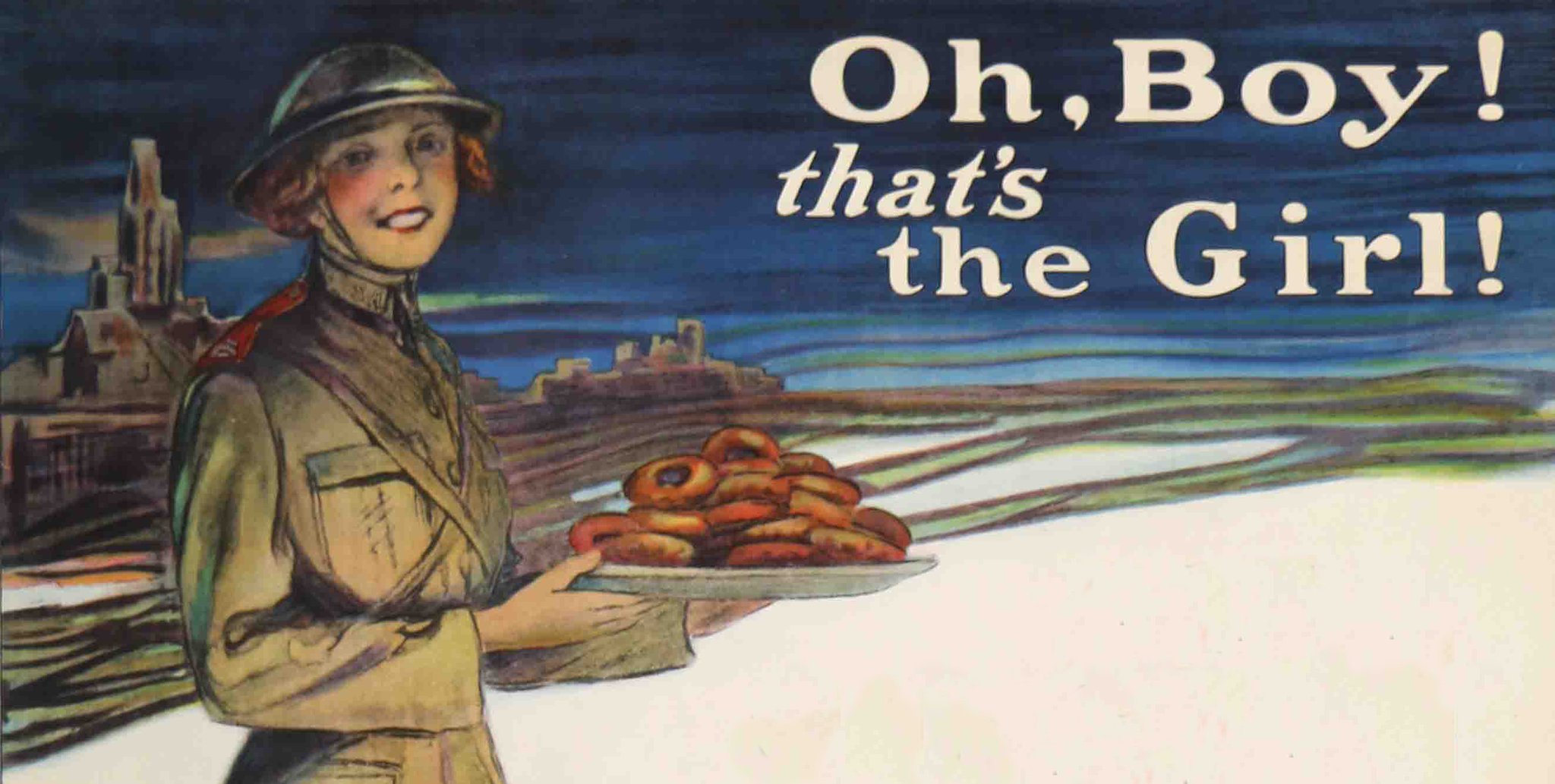 While you're enjoying your doughnut-related deals today, here's a little history about the celebration itself.
National Doughnut Day began in 1938 as a fundraiser for the Chicago branch of the Salvation Army, both as a way to help those harmed by the Great Depression, and to honor the work of "Sallies", or women volunteers who made doughnuts, served coffee, and administered to the enlisted of the First World War.
About 250 Salvation Army volunteers traveled to the Western Front to work in service huts where soldiers could have a hot meal and coffee while on rest. These huts were generally abandoned buildings or scrap-metal shacks, it was a real struggle to bake at all, or to do so in sufficient quantities.  Instead, two intrepid Salvation Army volunteers (Ensign Margaret Sheldon and Adjutant Helen Purviance) came up with the idea of providing doughnuts, which could be made and cooked quickly and easily regardless of the setting. These are reported to have been an "instant hit" with soldiers, and Margaret Sheldon wrote of one busy day: "Today I made 22 pies, 300 doughnuts, 700 cups of coffee."
Although the doughnut subsequently became popularly associated with the American Army abroad, it is not, in fact, the reason soldiers were referred to as "Doughboys."  That's actually a nickname that has its origins in the Mexican-American War of 1846-7.
So enjoy your doughnuts, beloved patrons, and while you do so, spare a thought for the brave women who made it possible!
And now, on to the books!
The Truffle Underground: A Tale of Mystery, Mayhem, and Manipulation in the Shadowy Market of the World's Most Expensive Fungus: If you, like us, are fond of cooking shows and cookbooks, you'll know that there are few things in the world that scream "luxury" like truffles.  But what on earth is a truffle?  And why do we care so much? In this delightful book, Ryan Jacobs takes us beneath the gloss of star chefs and crystal-laden tables, to where the truffle supply chain is touched by theft, secrecy, sabotage, and fraud. Farmers patrol their fields with rifles and fear losing trade secrets to spies. Hunters plant poisoned meatballs to eliminate rival truffle-hunting dogs. Naive buyers and even knowledgeable experts are duped by liars and counterfeits.  Deeply reported and elegantly written, this page-turning exposé documents the dark, sometimes deadly crimes at each level of the truffle's path from ground to plate, making sense of an industry that traffics in scarcity, seduction, and cash. Through it all, a question lingers: What, other than money, draws people to these dirt-covered jewels? An adventure for gourmets, travel enthusiasts, and trivia alike, this is a book that Publisher's Weekly called a "fascinating work . . . This deeply researched and eye-opening account of the lengths people will go for wealth, gratification, and a taste of the prized fungus will captivate readers."
The Volunteer: National-Book-Award finalist Salvatore Scibona's fascinating new novel opens when a small boy, speaking an unknown language, is abandoned by his father at an international airport, with only the clothes on his back and a handful of money jammed in the pocket of his coat. But in order to understand this heartbreaking and indefensible decision, the story must return to the moment, decades earlier, when a young man named Vollie Frade, almost on a whim, enlists in the United States Marine Corps to fight in Vietnam. Breaking definitively from his rural Iowan parents, Vollie puts in motion an unimaginable chain of events, which sees him go to work for insidious people with intentions he cannot yet grasp. From the Cambodian jungle, to a flophouse in Queens, to a commune in New Mexico, Vollie's path traces a secret history of life on the margins of America, culminating with an inevitable and terrible reckoning. By turns moving, frightening, insightful, and captivating, this is a book that manages to be both intimate and epic.  The New York Times Book Review agreed, calling this novel "Thrilling… Scibona has built a masterpiece."
The Lost Letters of William Woolf: Irish author Helen Cullen has crafted a delightful tale about the power of love and the written word that will hold appeal for mystery-lovers and romance readers alike. Inside the walls of the Dead Letters Depot, letter detectives work to solve mysteries. They study missing zip codes, illegible handwriting, rain-smudged ink, lost address labels, torn packages, forgotten street names—all the many twists of fate behind missed birthdays, broken hearts, unheard confessions, pointless accusations, unpaid bills, unanswered prayers. Their mission is to unite lost mail with its intended recipients. But when letters arrive addressed simply to "My Great Love," longtime letter detective William Woolf faces his greatest mystery to date. Written by a woman to the soulmate she hasn't met yet, the missives capture William's heart in ways he didn't know possible. Soon, he finds himself torn between the realities of his own marriage and his world of letters, and his quest to follow the clues becomes a life-changing journey of love, hope, and courage.  The Irish Times loved this book, sending it on its way by calling it  "Enchanting, intriguing, deeply moving."
Geek Girls Don't Cry: Real-Life Lessons From Fictional Female Characters: What does it mean for a woman to be strong—especially in a world where our conception of a "hero" is still so heavily influenced by male characters and superheroes like Batman, Spider-Man, and Superman?  Here's a book that takes its lessons from the great heroines and women heroes of fiction, offering advice tailor-made for fans of any age. Andrea Towers, who works in public relations at Marvel Entertainment, outlines some of the primary traits heroic women can call upon, like resilience, self-acceptance, and bravery, pulling in stories from real-life women as well as figures from the pop-culture pantheon. She also interviews the creators of our favorite fictional heroines, who discuss how they drew from their own experiences to develop these protagonists and how, conversely, their own creations continue to inspire them.  As much fun for heroines, women heroes, and those in training as it is for those looking for a behind-the-scenes glimpse of the making of comics and comic stories, this is a book that earned a starred review from Booklist, who celebrated "In a market flush with biographical anthologies of awesome, powerful, and sometimes unknown women, Towers' book stands out, and not just because the women she discusses do not technically exist. She puts the creative in creative nonfiction as she takes the biographical details of fictional female characters and associates them with various real-life issues to empower and comfort readers."
The Favorite Daughter: Readers looking for a gripping thriller to add to their beach bag or travel case, look no further.  Kaira Rouda's newest novel is being hailed as one of the highlights of the early summer. Jane Harris lives in a sparkling home in an oceanfront gated community in Orange County. It's a place that seems too beautiful to be touched by sadness. But exactly one year ago, Jane's oldest daughter, Mary, died in a tragic accident and Jane has been grief-stricken ever since. Lost in a haze of anti-depressants, she's barely even left the house. Now that's all about to change.  It's time for Jane to reclaim her life and her family. Jane's husband, David, has planned a memorial service for Mary and three days later, their youngest daughter, Betsy, graduates high school. Yet as Jane reemerges into the world, it's clear her family has changed without her. Her husband has been working long days—and nights—at the office. Her daughter seems distant, even secretive. And her beloved Mary was always such a good girl—dutiful and loving. But does someone know more about Mary, and about her last day, than they've revealed? How far will Jane go to find the truth?  Find out in this book that earned a starred review from Publisher's Weekly, who called it "An exceptional psychological thriller."
Until next week, beloved patrons–happy reading!