Happy Friday, beloved patrons!  And very hearty congratulations to Jokha Alharthi, author of Celestial Bodies who was awarded the 2019 Man Booker International Prize this week!  The ceremony posted this video on Twitter to share the event with all of us:
Go behind the scenes at the #MBI2019 winner ceremony video from the @RoundhouseLDN #FinestFiction #translatedfiction #Translation pic.twitter.com/cphvSTurFC

— Man Booker Prize (@ManBookerPrize) May 24, 2019
Alharthi is not only the first Arab woman to win the Man Booker International Prize, but she is also the first female Omani novelist to have her book translated into English.  Celestial Bodies is set in the village of al-Awafi in Oman, where we encounter three sisters: Mayya, who marries Abdallah after a heartbreak; Asma, who marries from a sense of duty; and Khawla who rejects all offers while waiting for her beloved, who has emigrated to Canada. These three women and their families witness Oman evolve from a traditional, slave-owning society which is slowly redefining itself after the colonial era, to the crossroads of its complex present. Elegantly structured and taut, it tells of Oman's coming-of-age through the prism of one family's losses and loves.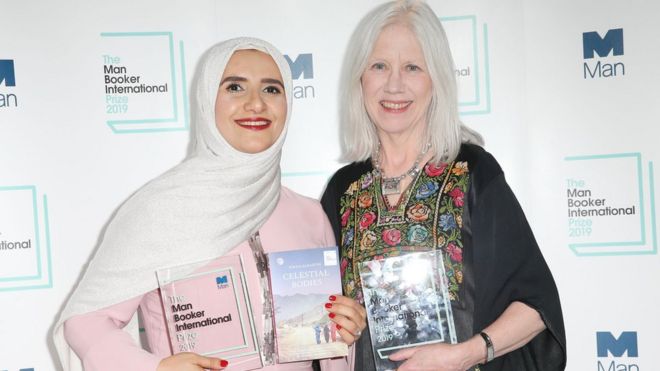 Alharthi shares the award of £50,000 ($63,000) with her translator,  American academic Marilyn Booth.  In a statement quoted by the BBC, Alharthi said "I am thrilled that a window has been opened to the rich Arabic culture…Oman inspired me but I think international readers can relate to the human values in the book – freedom and love."
We are delighted for both Jokha Alharthi and Marilyn Booth!
And now, on to some of the wonderful books that have graced our own shelves this week:
Sisters and Rebels: A Struggle for the Soul of America: Descendants of a prominent slaveholding family, Elizabeth, Grace, and Katharine Lumpkin grew up in a culture of white supremacy. But while Elizabeth remained a lifelong believer, her younger sisters chose vastly different lives. Seeking their fortunes in the North, Grace and Katharine reinvented themselves as radical thinkers whose literary works and organizing efforts brought the nation's attention to issues of region, race, and labor.  Utilizing decades of archival research and interviews with the family, National Humanities Award–winning historian Jacquelyn Dowd Hall follows the divergent paths of the Lumpkin sisters, tracing the wounds and unsung victories of the past through to the contemporary moment, Hall revives a buried tradition of Southern expatriation and progressivism; explores the lost, revolutionary zeal of the early twentieth century; and muses on the fraught ties of sisterhood.  Kirkus Reviews gave this work a starred review, applauding how these "Sharply etched biographical portraits focus a compelling history."
The Scent of Murder: Fan-favorite author Kylie Logan launches a new mystery series that moves away from her previous cozy mysteries into a more hard-boiled procedural that is sure to earn her a wealth of new fans.  The way Jazz Ramsey figures it, life is pretty good. She's thirty-five years old and owns her own home in one of Cleveland's most diverse, artsy, and interesting neighborhoods. She has a job she likes as an administrative assistant at an all-girls school, and a volunteer interest she's passionate about―Jazz is a cadaver dog handler. Jazz is working with Luther, a cadaver dog in training. Luther is still learning cadaver work, so Jazz is putting him through his paces at an abandoned building that will soon be turned into pricey condos. When Luther signals a find, Jazz is stunned to see the body of a young woman who is dressed in black and wearing the kind of make-up and jewelry that Jazz used to see on the Goth kids back in high school. She's even more shocked when she realizes that beneath the tattoos and the piercings and all that pale make up is a familiar face. The lead detective on the case is an old lover, and the murdered woman is an old student. Jazz finds herself sucked into the case, obsessed with learning the truth. An intense, engaging mystery, with a phenomenal sense of place, this is a series to watch!  Booklist agrees, noting that "The city itself is a character, transforming from its usual stereotype of a flyover city to a setting of intrigue. Dog lovers will enjoy the relationship between Jazz and her pets, and they'll learn something about cadaver dogs as Jazz brings a killer to justice."
Springtime in a Broken Mirror: The late Mario Benedetti's work has been celebrated as among the best of his generation, drawing comparisons with other Latin American writers as Gabriel García Márquez, Carlos Fuentes.  This book, which is finally available in an English translation, deals with Santiago, a political prisoner in Uruguay, who was jailed after a brutal military coup that saw many of his comrades flee elsewhere. Santiago, feeling trapped, can do nothing but write letters to his family and try to stay sane. Far away, his nine-year-old daughter Beatrice wonders at the marvels of 1970s Buenos Aires, but her grandpa and mother—Santiago's beautiful, careworn wife, Graciela—struggle to adjust to a life in exile.  This is a powerful book that sheds light on the ways in which world events shape and influence the lives and relationships of individuals, told in tender, heartfelt, and wrenchingly honest prose. Publisher's Weekly gave it a starred review, calling it a "rich, heartbreaking novel. . . . Benedetti's tender yet unflinching portrait of a family in the crushing straits of history is a welcome addition to the small (and hopefully growing) catalogue of his work that has been translated into English."
The Confessions of Frannie Langton: Sara Collins debut novel is drawing comparisons to Margaret Atwood's Alias Grace, which is reason enough for us to look forward to reading it, but the description of this book grabbed our attention all on its own.  All of London is abuzz with the scandalous case of Frannie Langton, accused of the brutal double murder of her employers, renowned scientist George Benham and his eccentric French wife, Marguerite. Crowds pack the courtroom, eagerly following every twist, while the newspapers print lurid theories about the killings and the mysterious woman being tried at the Old Bailey. The testimonies against Frannie are damning. She is a seductress, a witch, a master manipulator, a whore. But Frannie claims she cannot recall what happened that fateful evening, even if remembering could save her life. She doesn't know how she came to be covered in the victims' blood. But she does have a tale to tell: a story of her childhood on a Jamaican plantation, her apprenticeship under a debauched scientist who stretched all bounds of ethics, and the events that brought her into the Benhams' London home—and into a passionate and forbidden relationship. Though her testimony may seal her conviction, the truth will unmask the perpetrators of crimes far beyond murder and indict the whole of English society itself. Collins confronts the darkest parts of history and our humanity in this book with heart and integrity, and her work has earned a starred review from Kirkus Reviews, who called it "a bold and vibrant jolt to both the gothic and historical fiction genres. . . . Most of all, she has created in her title character a complex, melancholy, and trenchantly observant protagonist. . . . [a] gripping, groundbreaking debut."
The Organs of Sense: Adam Ehrlich Sachs' fiction debut is a delightfully absurd, joyfully imaginative romp through a re-imagined historical moment that will hold appeal for fans across a number of genres.  Set in 1666, the story begins when an astronomer makes a prediction shared by no one else in the world: at the stroke of noon on June 30 of that year, a solar eclipse will cast all of Europe into total darkness for four seconds. This astronomer is rumored to be using the longest telescope ever built, but he is also known to be blind; both his eyes having been plucked out some time before under mysterious circumstances. Is he mad? Or does he, despite this impairment, have an insight denied the other scholars of his day These questions intrigue the young Gottfried Leibniz―not yet the world-renowned polymath who would go on to discover calculus, but a nineteen-year-old whose faith in reason is shaky at best. Leibniz sets off to investigate the astronomer's claim, and over the three hours remaining before the eclipse occurs―or fails to occur―the astronomer tells the scholar the haunting and hilarious story behind his strange prediction: a tale that ends up encompassing kings and princes, family squabbles, obsessive pursuits, insanity, philosophy, art, loss, and the horrors of war. This is a surprisingly deep little novel that hides its wisdom inside a tale rife with humor.  Library Journal adored it, giving it a starred review and celebrating how it is "filled with delightful tales of palace intrigue, sibling rivalry, and extensive forays into empirical thought and logic. Deep philosophy is applied to nearly everything that pops up, including the eating of soup. Yet despite these heavy themes, Sachs applies a liberal does of clever humor throughout; nearly everyone is a charlatan in what might be the most lighthearted work about the history of science ever published."
Until next week, beloved patrons–Happy Reading!