And today we honor the life, work, and legacy of Andrea Levy, who, it was announced today, has passed away at the age of 62.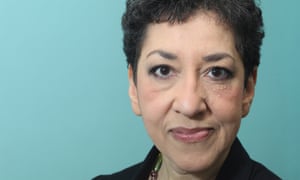 Levy was born in 1956 to Jamaican parents who had traveled to England as part of a generation of postwar migrants.  They arrived in the UK on the Empire Windrush, the ship that brought one of the first groups of West Indian migrants to the UK in 1948.
Levy did not start writing until she was in her mid-30s, after enrolling in a creative writing class at an adult education college in London.  There were precious few books about Jamaican immigrants at the time, and in telling the story of her family and her heritage, Levy provided a voice for the thousands of immigrants who made their lives in Britain following the Second World War.
Levy was best known for Small Island, a beautiful and lyrical novel about two Jamaicans immigrants who immigrate to Britain, much like Levy's own parents did.  Her last novel, The Long Song, was published in 2010, and dealt with the history and legacy of slavery in Jamaica, stretching from the 19th century to the present.  It was nominated for the Man Booker Prize.  Her final work was the 2014 release Six Stories and an Essay, a collection of short stories and essays compiled over a lifetime of work about her career and her Caribbean heritage.
The Guardian published a moving tribute to Levy, her work, and her significance as a British and Jamaican author.  We are honored to share it with you today, and to celebrate the live of such a strong, remarkable storyteller.
And in that spirit, we'd like to introduce you to a few of the titles that slogged through this week's weird winter weather to make your acquaintance:
Death is Hard Work: Syrian writer Khaled Khalifa continues to reside in Damacus, despite the constant threat of physical harm and trauma caused by the ongoing violence across the country.  As a result, this work provides a searing, honest, first-hand account of modern life in a world destroyed by war, and the way it shapes the lives of three otherwise ordinary people.  Abdel Latif, an old man from the Aleppo region, dies peacefully in a hospital bed in Damascus. His final wish, conveyed to his youngest son, Bolbol, is to be buried in the family plot in their ancestral village of Anabiya. Though Abdel was hardly an ideal father, and though Bolbol is estranged from his siblings, this conscientious son persuades his older brother Hussein and his sister Fatima to accompany him and the body to Anabiya, which is―after all―only a two-hour drive from Damascus.  With the landscape of their childhood now a labyrinth of competing armies whose actions are at once arbitrary and lethal, the siblings' decision to set aside their differences and honor their father's request quickly balloons from a minor commitment into an epic and life-threatening quest. Syria, however, is no longer a place for heroes, and the decisions the family must make along the way―as they find themselves captured and recaptured, interrogated, imprisoned, and bombed―will prove to have enormous consequences for all of them.  This is a novel that shows the power of fiction to speak truth to power, and has earned glowing reviews from outlets around the world.  Kirkus gave it a starred review, calling it an "Insistent, memorable portrait of the small indignities and large horrors of the civil war in Syria . . . a skillfully constructed epic that packs a tremendous amount of hard-won knowledge into its pages."
Black Leopard Red Wolf: Marlon James' Booker Award came as something of a surprise in 2015–but only to those who had not before encountered his magical way with words and stories.  This novel is the opening of a trilogy that utilizes the tools of African legend, mythology, fantasy and historical fiction together to create a magical new world. Tracker is known far and wide for his skills as a hunter: "He has a nose," people say. Engaged to track down a mysterious boy who disappeared three years earlier, Tracker breaks his own rule of always working alone when he finds himself part of a group that comes together to search for the boy. The band is a hodgepodge, full of unusual characters with secrets of their own, including a shape-shifting man-animal known as Leopard. As Tracker follows the boy's scent–from one ancient city to another; into dense forests and across deep rivers–he and the band are set upon by creatures intent on destroying them. As he struggles to survive, Tracker starts to wonder: Who, really, is this boy? Why has he been missing for so long? Why do so many people want to keep Tracker from finding him? And perhaps the most important questions of all: Who is telling the truth, and who is lying?  This is a work that is as entertaining as it is searching and profound, and the reviews are all inspired and elated.  The New York Times provided one of many, cheering,  "Marlon James is one of those novelists who aren't afraid to give a performance, to change the states of language from viscous to gushing to grand, to get all the way inside the people he's created…Not only does this book come with a hefty cast of characters (like Seven Killings), there are also shape shifters, fairies, trolls, and, apparently, a map. The map might be handy. But it might be the opposite of why you come to James—to get lost in him."
Still in Love: Readers of Michael Downing's Perfect Agreement will recognize the characters in this follow-up novel, but there is plenty here to keep new comers spellbound, as well.  Mark Sternum is a veteran teacher. Twenty years older than when we first met him, separated for six months from his longtime lover, and desperate to duck the overtures of double-dealing deans above him and disgruntled adjunct faculty below him, Mark has one ambition every day he is on campus―to close the classroom door and leave the world behind. His escape, however, is complicated by his contentious, complicated wrestling match of a relationship with the Professor, the tenured faculty member with whom Mark has co-taught this creative-writing workshop for ten years. Their exchanges and interactions create the foundation of this of one semester in a college classroom. And it is an urgent reminder that we desperately need classrooms, that those singular, sealed-off-from-the-world sanctuaries are where we learn to love our lives. Publisher's Weekly noted in their review that "Downing's witty follow-up …satisfyingly transports readers to college as teacher Mark Sternum begins winter term at Hellman College in New England . . . In depicting Mark's ordinary semester, Downing poignantly illustrates the dynamics of the college classroom as well as its potential for lasting lessons, making for a resonant campus novel."
Early Riser: Jasper Fforde has a way with words–and with reality.  By foregoing all the traditional rules of science fiction, he has created a novel set in an alternative Wales that is as funny as it is unsettling.  Every Winter, the human population hibernates.  During those bitterly cold four months, the nation is a snow-draped landscape of desolate loneliness, devoid of human activity.  Well, not quite…Your name is Charlie Worthing and it's your first season with the Winter Consuls, the committed but mildly unhinged group of misfits who are responsible for ensuring the hibernatory safe passage of the sleeping masses. You are investigating an outbreak of viral dreams which you dismiss as nonsense; nothing more than a quirky artefact borne of the sleeping mind. When the dreams start to kill people, it's unsettling. When you get the dreams too, it's weird. When they start to come true, you begin to doubt your sanity.  But teasing truth from the Winter is never easy, and the adventures you encounter on your way will make your nightmares look like child's play.  Library Journal loved this book, describing its "Veiled commentary on corporate greed, sleep and dreaming, and twisted popular culture highlight why Fforde, perhaps best known for his "Thursday Next" series, is on par with authors such as Terry Pratchett and Douglas Adams."
The Current: Tim Johnston is a marvel at creating characters and natural settings, and this work shows him at his literary best.  In the dead of winter, outside a small Minnesota town, state troopers pull two young women and their car from the icy Black Root River. One is found downriver, drowned, while the other is found at the scene—half frozen but alive. What happened was no accident, and news of the crime awakens the community's memories of another young woman who lost her life in the same river ten years earlier, and whose killer may still live among them. Determined to find answers, the surviving young woman soon realizes that she's connected to the earlier unsolved case by more than just a river, and the deeper she plunges into her own investigation, the closer she comes to dangerous truths, and to the violence that simmers just below the surface of her hometown. Fast-paced, cleverly-plotted, and gripping, this is a work that the Washington Independent Review of Books called "much more than a skillfully constructed, beautifully written whodunit. It's a subtle and lyrical acclamation of the heart and spirit of small-town America. The Current is not your conventional, frenetically paced page-turner, although it smolders with a brooding, slow-burn tension that nudges the reader forward, catching you up in the lives of the troubled solitaries at the book's core."
Until next week, beloved patrons–happy reading!