After a wee bit of a late-summer vacation, the Romance Garden has returned, dear readers, and we are delighted to bring you a selection of our staff member's favorite romances of the month!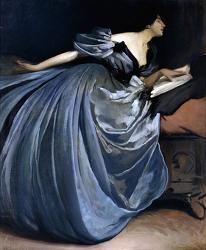 Bridget:
Wicked as They Come by Delilah S. Dawson
In the spirit of the season, and my beloved All Hallows Read, I decided this month to revisit an old favorite of mine.  Dawson's carnie-punk world of Blud is a limitless fantasyland of dark wonders, and it was a treat to realize that all the things I loved about this book and this series still held true.
When nurse Tish Everett forced open the pesky but lovely locket she found at an estate sale, she had no idea she was answering the call of Criminy Stain, from the far off land of Sang. He'd cast a spell for her, but when she's transported right to him, she's not so sure she's ready to be under the spell of another man. (It didn't go so well last time with controlling, abusive, domineering Jeff.) If only Criminy wasn't so deliciously rakish…. Half the inhabitants of Sang are Pinkies—human—and the other half are Bludmen, who in Tish's world would be called vampires. But they don't mess with any of the bat/coffin/no sunlight nonsense. They're rather like you and me, just more fabulous, long living, and mostly indestructible.  But when the evil Mayor of Manchester redoubles his efforts to rid Sang of the Bludmen once and for all, stealing Tish's locket in hopes of traveling back to her world himself for reinforcements, Criminy and Tish must battle ghosts, sea monsters, wayward submarines, a secret cabal, and thundering Bludmares to get the locket back and allow Tish to return home
I love this book because it is really all about Tish, and her learning where she truly belongs, and what she truly wants.  I love this book because Criminy Stain (which is both a brilliant character name and a sensational curse word) is devoted to getting her what she needs, even if it means losing her for good.  I love the way their relationship develops, and I adore Criminy's circus.  I'm really looking forward to revisiting the rest of this superb series soon, and finding out the other members of the circus find their happily ever afters!  Just a note–though Tish and Criminy's story continues after this book, there is a lovely resolution here for those who aren't a fan of cliff-hangers.  Check with your lovely public services staff to check this book out!
Kelley:
A Duke by Default by Alyssa Cole
After years of living her life as a self described "hot mess," Portia Hobbs decides to turn things around, and when she receives a sword making apprenticeship with a master sword maker in Scotland, it's the perfect opportunity for a fresh start. As part of the apprenticeship, Portia will put together a promotional campaign for the armory which has recently seen declines in sales, but the project hits a major speed bump when her research about the history of the armory building uncovers the fact that unbeknownst to him, her gruff and handsome boss is actually a duke. Suddenly, reluctant duke Tavish McKenzie finds himself a celebrity and Portia goes from sword making apprentice to secretary and PR manager for a duke.
After a rough start that involves sword fighting and bear spray, Tav and Portia come to be each other's greatest supporters. She helps him come to terms with a title he doesn't want for the sake of the community he loves, and he helps her see that although she may have been a hot mess at one time, she's actually brilliant and capable of anything she decides she wants to do.
Cole's characters are well-developed and relatable, and the book has some nice ties to the previous series title that will make readers want to go back to explore the stories of the supporting characters. Exploring issues of class and racism, Cole adds plenty of substance to Tav and Portia's story. If "A Duke by Default" is not on your to-read list, make sure to add it now!
Until next month, dear readers, we hope you enjoy!